Free OSHA Posters
Click here to get the right OSHA Workplace poster for your state
The Occupational Safety and Health Administration (OSHA) requires affected employers located in states and territories covered by Federal OSHA to display the Federal OSHA poster in an area(s) where employees are accustomed to seeing workplace notices, such as on an employee bulletin board or near the timeclock. Many employers purchase "All-in-One" posters that contain many other required federal and state-mandated posters in addition to the OSHA poster. However, employers can download and print the Federal OSHA workplace poster for free.
The Federal OSHA poster is available in an English version, as well as a Spanish version of the OSHA poster, and a new Polish version. There's even a version of an OSHA poster for Federal Agencies to post in their workplaces; this is NOT to be confused with the poster required for private employers.
States that operate one of the approved State Plan OSHA Programs also have standards requiring affected employers in their states to post the appropriate State OSHA Poster in lieu of the Federal poster. These State OSHA posters are also available for free to download and print.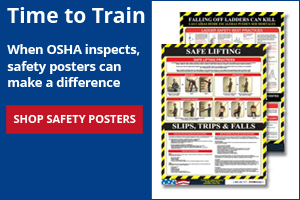 OSHA occasionally changes the appearance of their OSHA poster every few years, so subsequently there are several versions of the workplace poster available. If you have an older version of the Federal OSHA poster displayed in the workplace, it is not necessary to replace it with an updated version. Also, be sure to pay attention to any size requirements when printing OSHA posters.